Falling film vacuum evaporator.
ENVIDEST MVR FF (30-2500) is the latest vacuum evaporator, by steam mechanical compression, of falling film and forced circulation, for flow rates between 30-2500 liters/hour.
The application of forced circulation allows to optimize heat exchange and as a result a lower energy consumption.
Our evaporators ENVIDEST MVR FF 30 – 2500
Main features
Vertical evaporator A-316 L with integrated centrifugal separator, heated by compressed steam from evaporated water. The distillate passes through a pre-plate exchanger cross-current to cool down and at the same time pre-heat the incoming wastewater. To ensure quick and easy cleaning of the evaporator, the covers are removable.
Blower vacuum and compressor pump unit of steam type Root the power of which is transmitted by an electric motor of 400 V III, 50 Hz guided by V-belts. The vacuum pump and motor are installed separately in a steel-painted frame with  vibration damper and noise absorber.
Double seam centrifugal pump with closed cooling system to produce the forced recirculation of the fluid to be treated. Through this system known as falling film, a thin layer of fluid is created that facilitates, when sliding down the inner surface of the exchanger, instant evaporation, it reduces the fouling of the exchanger and it eliminates the formation of foam. The concentrate is discharged with the same pump.
Control panel with display of digital text to show the operating data and PLC SIEMENS S7 integrated in the cabinet.
Automated discharge and purge system of the evaporator.
Automated cleaning system for the inside of the evaporator.
Antifoam automated dosage system.
Optional features
Centrifugal pump for distillate discharge.
The equipment can be supplied, the parts in contact with liquid, in special material resistant to corrosion (1.4539 or Hastelloy)( effluent with high content of chlorides or fluorides, etc).
Remote management MODEM.
Other power supplies available.
Diagram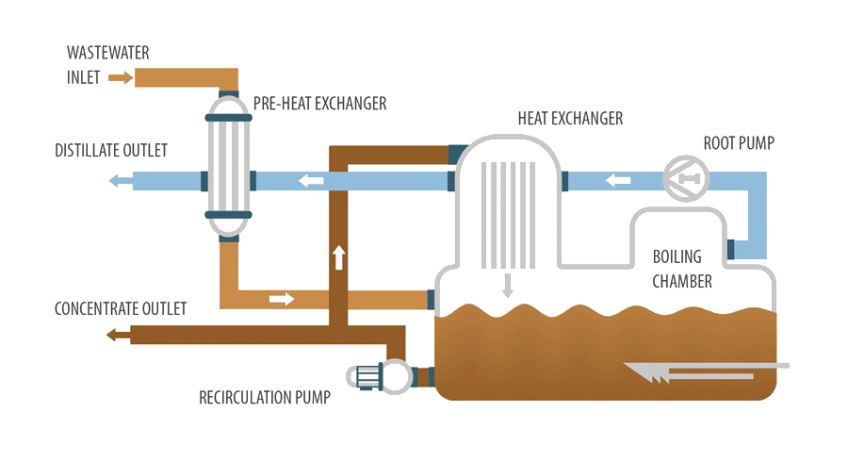 Technical specs
| | Units | 30 | 40 | 60 | 90 | 120 | 160 |
| --- | --- | --- | --- | --- | --- | --- | --- |
| Feed Inlet | I/d | 600 | 800 | 1.200 | 1.800 | 2.400 | 3.200 |
| Nominal Capacity | I/h | 30 | 40 | 60 | 90 | 120 | 160 |
| Energy Consumption | W/I | 80-90 | 80-90 | 75-85 | 75-85 | 65-75 | 65-75 |
| Dimensions(LxPxH) | cm | 179x92x218 | 179x92x218 | 179x92x218 | 179x92x218 | 216x128x232 | 216x128x232 |
| | Units | 200 | 240 | 300 | 350 | 400 | 500 | 600 |
| --- | --- | --- | --- | --- | --- | --- | --- | --- |
| Feed Inlet | I/d | 4.000 | 2.800 | 6.000 | 7.000 | 8.000 | 10.000 | 12.000 |
| Nominal Capacity | I/h | 200 | 240 | 300 | 350 | 400 | 500 | 600 |
| Energy Consumption | W/I | 60-70 | 60-70 | 55-65 | 55-65 | 55-65 | 40-50 | 40-50 |
| Dimensions (LxPxH) | cm | 216x128x232 | 234x154x249 | 234x154x249 | 234x154x249 | 234x154x249 | 334x210x275 | 334x210x275 |
| | Units | 800 | 1000 | 1200 | 1500 | 2000 | 2.500 |
| --- | --- | --- | --- | --- | --- | --- | --- |
| Feed Inlet | I/d | 16.000 | 20.000 | 24.000 | 30.000 | 40.000 | 50.000 |
| Nominal Capacity | I/h | 800 | 1.000 | 1.200 | 1.500 | 2.000 | 2.500 |
| Energy Consuption | W/I | 40-50 | 30-40 | 30-40 | 30-40 | 30-40 | 30-40 |
| Dimensions (LxPxH) | cm | 334x210x275 | 335x239x330 | 335x239x330 | 335x239x330 | 440x245x356 | 440x290x389 |