Multiple-effect vacuum evaporators (two phases).
ENVIDEST MFE-2 (10.000-120.000) is a vacuum evaporator with external heat exchanger and forced circulation. The equipment works with contribution of hot water or steam.
Two condensation options: by Air condenser or cooling water circuit plate exchanger.
Possibility of using the heat in several effects. Fully automated operation of the equipment.
Our evaporators ENVIDEST MFE 2
Main features
Double effect evaporator. Fixed on frame.
Two vertical steam boilers built in stainless steel, with easy access inspection manhole on the side, demister y heat insulation.
Two stainless steel external special heat exchangers of low fouling, with heat fluids inlet and outlet.
Two heating options for evaporation of first effect:
Steam circuit heat exchanger.
Superheated water circuit heat exchanger.
Two condensation options in the second effect:
Air condenser equipment.
Coolant circuit plate exchanger
Two recirculation centrifugal pumps with double seal in AISI 316.
Two distillate pumps, controlled by a level sensor.
Two separate vacuum systems operated by liquid ring pump.
System of aspiration of water to be treated by vacuum suction, controlled by the boiler's inside level sensor which controls the inlet valve.
Two discharge pumps, controlled by time or density.
Antifoam measuring system: completely automated with foam detector. It allows the automatic injection of the antifoam product to the evaporator.
Anti-fouling dosage system, with metering pump.
Integrated electric panel. Control system with PLC SIEMENS S7-300 and HMI SIEMENS MP377.
Communication system with remote assistance modem (optional).
Power supply: 400 V III, 50 Hz.
Optional features
Parts of the equipment touching the fluid built with special material corrosion resistant (SAF 2507, SANICRO 28, TITANIUM or stainless steel austenitic-ferritic super duplex alloys) (for effluents with high levels of chloride, fluoride, etc. Remote management MODEM.
Other power supplies available.
Diagram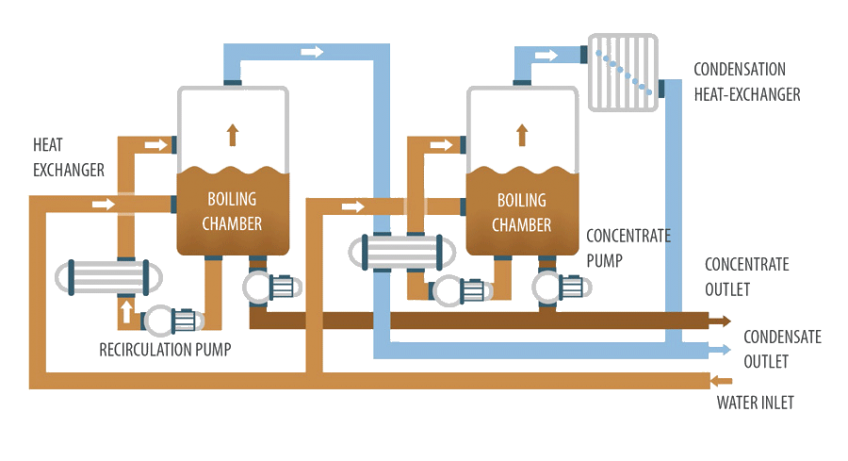 Technical specs
| Parameter | Units | 10000 | 30000 | 40000 | 50000 | 60000 | 80000 | 100000 | 120000 |
| --- | --- | --- | --- | --- | --- | --- | --- | --- | --- |
| Capacity | L/day | 10000 | 30000 | 40000 | 50000 | 60000 | 80000 | 100000 | 120000 |
| Electrical consumption | kWh | 21,3 | 27 | 29 | 31 | 36 | 44 | 495 | 54 |
| Dimensions (L x W x H) | mm | 4500 x 3100 x 3970 | 7000 x 3900 x 5100 | 6650 x 3900 x 5530 | 8410 x 3900 x 5475 | 8410 x 3900 x 5530 | 9000 x 6310 x 5540 | 10400 x 6500 x 5800 | 12000 x 6800 x 6100 |