Heat pump vacuum evaporators.
ENVIDEST LT VS (250-18.000) is an electric heat pump vacuum evaporator. Designed for liquid industrial effluent treatment.
Clean water production between 250-18.000 liters/day.
Our evaporators ENVIDEST LT VS
Main features
Steam boiler built in A-316 L. Completely detachable, easy to access through its inspection manhole (170, 350 and 500 mm, depending on model).
Toroid shape submerged exchanger built in AISI-316 or other materials, for liquid heating.
Upper heat exchanger for steam condensation, closed-loop system.
High efficiency main circuit with main compressor for refrigerant heating and cooling (Ecological Freon gas type R407c or R134a).
Supporting circuit for cooling of the vacuum circuit with compressor and instruments.
Cooling axial fans with automatic insertion through pressure transducer, depending on model with frequency  converters.
Venturi vacuum system or liquid ring  pump (depending on model).
Recirculation pump / download of special concentrate for dense liquids.
Control panel with display, to show the operating data and PLC SIEMENS integrated in the cabinet.
Automated cleaning system for the inside of the boiler. With cycle start from the operator.
Antifoam automated control and dosage system.
Optional features
It can be supplied with parts of the equipment touching the fluid built with special material  corrosion resistant (SAF 2507, SANICRO 28, TITANIUM or stainless steel austenitic-ferritic super duplex alloys) for effluents with high levels of chloride, fluoride, etc.
Special version model LT DPC, for very corrosive liquids, in boilers PVDF coated and graphite exchanger or Hastelloy (special for chromic acid).
Remote management MODEM.
Other power supplies available.
Diagram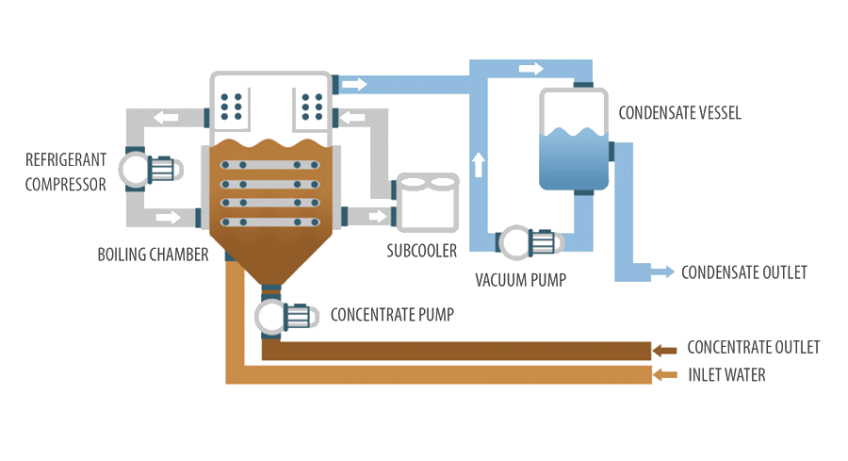 Technical specs
Units
250
500
750
1000
1500
2000
2500
18000
Daily distillate
I/d
250
500
750
1000
1500
2000
2500
18000
Hourly distillate
I/h
10
21
31
42
63
83
104
750
Energy Consumption
kWh
4,7
5,9
5,3
8,0
13,0
16,9
22,2
160
Dimensions (LxWxH)
mm
2050
x
830
x
1900
2100
x
870
x
2250
2200
x
1000
x
2200
2200
x
1000
x
2400
2800
x
1300
x
2400
2900
x
1250
x
2420
3000
x
1350
x
2700
5600
x
2400
x
4155