Vacuum Crystallizers powered by hot water or steam
DESALT VR cristallyzers are studied for the treatment of encrusting wastewater and for the recovery of semi solid concentrates. They are powered with hot water or steam, by evaporation process, utilizing energy sources already existing.
According to the wastewater to be treated, the evaporator can be made by special corrosion-resistant alloys.
Our evaporators DESALT VR
Main features
En-bloc skid made of austenitic steel.
Boiling vessel fitted with scraper positioned inside, having screwing blades for the non-stop cleaning of exchange surface and product homogenizing during concentration phase.
High performance heat exchanger, positioned outside the boiling chamber, cast-in lined.
Digital and analogue control instrument for the automatic monitoring of the system.
The Vr series evaporators are featured for the treatment of highly encrusting liquids thus reaching an high concentration level.
Automatic circuit for condensate discharge and vacuum generation,composed of centrifugal motor pump, Venturi ejector, condensate storage and cooling tank, complete with heat exchanger, check valves, digital and analogue control, monitoring instrument.
The condensation of the evaporated wastewater happens in closed circuit with the steam passage through a water cooled plate heat exchanger, from the cooling tower.
Automatic circuit for the concentrate discharge, programmable by temporized system.
The discharge of the concentrate can be mande by means of a centrifugal or one-screw pump or by gravity
Electrical panel in painted sheet, protection IP 54.
Automatic overload cutout for all motors.
24 volts auxiliary circuit.
Wiring made in flame proof cables.
Level control regulators for tanks and outside reservoirs level
Power supply by hot water, steam or other fluid in temperature.
Condensation by water coming from cooling tower or air condenser.
Outside lined heat-exchanger.
Inside scraper independent device.
Wastewater inlet, distillate and condensate outlet automatically.
Check by PLC Siemens S7-200 PLC with OP7 keyboard or similar.
Pull-out boiling and condensation chambers.
Main frame made in stainless steel AISI 304; boiling&condensation chambers and heat-exchangers made in stainless steel AISI 316 L.
Special corrosion-resistant material upon request, according to the treated wastewater.
Optional: Cleaning unit. The automatic system is complete with pneumatic valve and rotating nozzle. The circuit allows the release of cleaning agents inside the crystallizer: the wash cycle time can be adjusted from the control panel according to the actual needs.
Optional: Foam Control Batching System. Automatic system complete with foam formation sensor and variable setting control. The circuit allows the automatic injection of antifoam products inside the crystallizer: the quantity of injected antifoam is adjustable by the control panel according to the actual needs.
Optional: "Teleservice" Control System for remote assistance"
Optional features
Glue and encrusting liquid treatment.
Treatment of wastewater from developing and fixing processes.
Wastewater treatment from frames and cylinder press washes.
Links treatment and recovery
Diagram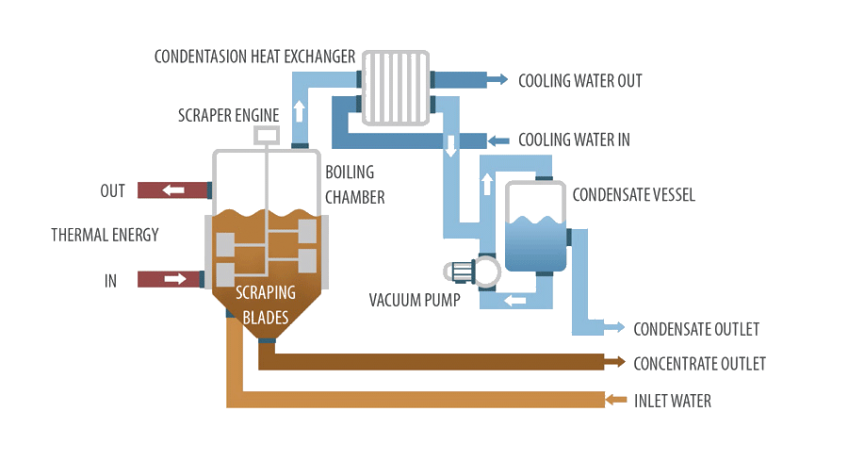 Technical specs
| Parameter | Units | 3000 | 6000 | 10000 | 24000 |
| --- | --- | --- | --- | --- | --- |
| Capacity | L/day | 3000 | 6000 | 10000 | 24000 |
| Electrical consumption | kWh | 4 | 4,6 | 4,6 | 10 |
| Dimensions (L x W x H) | mm | 3100 x 1600 x 3760 | 4000 x 2000 x 4250 | 4100 x 2000 x 5000 | 4730 x 2270 x 5507 |