The ENVIDEST MVR FC evaporators represent a new concept of evaporators with forced circulation by means of mechanical vapour compression in order to produce 250-2,000 L / h of distillate.
Preheating system of the water to be treated for equipment start-up (for two hours) using electrical resistors installed inside the boiler or by vapour supply provided by the client.
Our evaporators ENVIDEST MVR FC
Main features
Vertical boiler, manufactured with the material AISI 316 L.
Large capacity for continuous operation of the machine.apour compression system using a Root pump.
Vacuum formed by a liquid ring pump. A system for cooling the pump using a chiller installed outside the frame.
A system for recirculating concentrated water using a centrifugal pump.
A plate exchanger for exchanging heat between the fluid to be treated and the vapour produced, causing the condensation of the latter (distillate).
Manufactured with AISI 316 L.
Pre-plate exchanger to pre-heat the water to be treated. Exchange between the water to be treated and the distillate obtained.
Condensation tank manufactured with AISI 316 L.
Automatic control by weight, pressure and temperature.
Load cells, for control by weight.
Scaled level sensor for continuous control of the process.
Manometer for controlling the vacuum and the operation of the vacuum pump.
Machine started using electrical resistance or vapour feed.
Pipes manufactured with AISI 316 L.
Cleaning in place system for the inside of the evaporator, thus guaranteeing its continuous availability.
Control cabinet built into machine with protection and operational control equipment.
It has PLC, analogue modules for instrumentation and touch HMI with a screen.
Optional features
Machine with panelling to minimise the noise and optimise the performance of the machine at thermal level.
It is possible to feed the machine, the parts in contact with the liquid, with a special material that is resistant to corrosion (SAF 2507 or TITANIUM) (effluent with a high chloride or fluoride, etc., content).
Distance management MODEM.
Other electrical supplies are available.
Diagram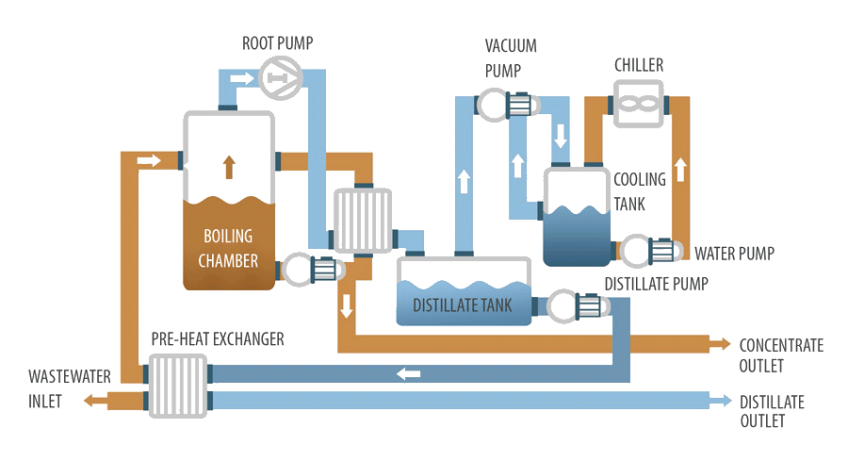 Technical specs
| | Units | 250 | 500 | 750 | 1000 | 1500 | 2000 |
| --- | --- | --- | --- | --- | --- | --- | --- |
| Feed Inlet | I/d | 5.000 | 10.000 | 15.000 | 20.000 | 30.000 | 40.000 |
| Nominal Capacity | I/h | 250 | 500 | 750 | 1000 | 1500 | 2000 |
| Energy Consumption | W/I | 52 | 52 | 48 | 48 | 48 | 48 |
| Dimensions (LxPxH) | cm | 320x190x290 | 350x210x290 | 400x220x325 | 450x220x340 | 470x220x350 | 490x220x350 |