Vacuum crystallizer powered by hot water or steam.
Single or multiple effect Crystallizer fit to concentrate saline solutions and high capacities of liquid.
Vertical boiling vessel with external heat exchanger with high-speed circulation.
Powered by Steam. Full automatic operation system by PLC; display of main parameters by LCD TOUCH screen. Standard manufacturing AISI316 – special alloys on demand.
Standard range from 60 to 180 Tons/day of evaporated water.
Our evaporators DESALT MFE
Main features
Modular skid made of austenitic steel, single or multiple effect, with possible extension from 1 up to 3 crystallization modules.
Boiling vessels, fitted wuth external tube-nest heat-exchangers. The process liquid flows inside the tube-nest at high speed, thanks to the centrifugal rotor pumps, getting the calories necessary for the crystallization thus avoiding the stratification on the exchange surface.
The multi-stage version allows the recovery of the latent heat of crystallization, in "cascading" effect, from 1st to stage to next ones, reducing of 1/3 the otherwise required energy.
Digital and analogue control instrument for the automatic monitoring of the system.
Automatic circuit for condensate discharge and vacuum generation, composed of liquid ring pumps, cooling tanks, manual and pneumatic check valves, digital and analogue control.
The condensation of the crystallized wastewater happens in closed circuit with the steam passage through a water cooled plate heat exchanger from the cooling tower density control device or by a timer for a complete customization of the process.
The condensate is stored in tanks separated from the vacuum circuit and raised by means of pumps controlled by level feelers.
Automatic circuit for the recirculation and discharge of the concentrate, complete with extraction pumps, pneumatic and manual valves, on-off valves for taking product samples during processing.
The automatic discharge function is programmable through an adjustable density control device or by a timer for a complete customization of the process.
The automatic system is complete with pneumatic valve and rotating nozzle. The circuit allows the release of cleaning agents inside the crystallizer the wash cycle time can be adjusted from the control panel according to the actual needs.
Automatic system complete with foam formation sensor and variable setting control. The circuit allows the automatic injection of antifoam products inside the crystallizer: the quantity of injected antifoam is adjustable by the control panel according to the actual needs.
Power supply by hot water or steam.
Outside heat-exchanger forced type.
Heat exploiting at multiple effect.
Wastewater inlet, distillate and condensate outlet automatically operated.
Check by PLC Siemens S7-200/300 with Siemens Touch Panel.
Pull-out heat exchangers.
Electrical panel in painted sheet, protection IP 54.
Automatic overload cutout for all motors.
24 volts auxiliary circuit.
Wiring made in flame proofs cables.
Level control regulators for tanks and outside reservoirs level.
Optional: "Teleservice" Control System for remote assistance"
Optional features
Oily emulsions, wastewater from vibratory finishing, exhausted baths.
Wastewater from pressure die-casting (release agents, glycols, lubricants, oils).
Wastewater from galvanization (chromium, nickel, copper), exhausted baths, eluates.
Recycling of exhausted baths.
Washing of reactors, process wastewater for chemical/pharmaceutical industry.
Treatment of water-based solutions.
Diagram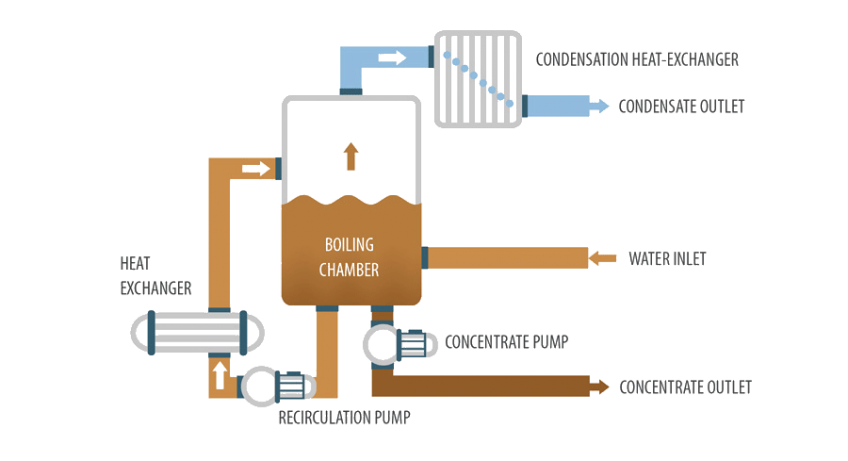 Technical specs
| | Units | 15000 | 30000 | 50000 | 60000 |
| --- | --- | --- | --- | --- | --- |
| Feed Inlet | I/d | 15.000 | 30.000 | 50.000 | 60.000 |
| Nominal Capacity | I/h | 625 | 1.250 | 2.100 | 2.500 |
| Energy Consumption | KCal | 375.000 | 750.000 | 1.250.000 | 1.500.000 |
| Dimensions (LxPxH) | cm | 360x300x600 | 400x300x600 | 400x320x650 | 400x320x700 |