Dry heat pump crystallizers with internal scraper.
DESALT LT VR (500-3.000) is a dry heat vacuum crystallizer, it works with electrical energy and has an internal scraper. Specially recommended for fouling wastewater and high density watery solution treatment.
Clean water production between 500-3.000 liters/day.
Our evaporators DESALT LT VR
Main features
Steam boiler evaporator built in A-316 L, can be completely dismantled.
Internal scraper activated by a gear motor, made in A-316L, in order to avoid fouling and to improve the heat transmission and the consistency of the fluid to be treated.
External sleeve heat exchanger recovering the external side of the boiler.
High efficiency main circuit with main compressor for refrigerant heating and cooling(Ecological Freon gas type R407c or R134a).
Supporting circuit for cooling of the vacuum circuit with compressor and instruments.
Cooling axial fans with automatic insertion through pressure transducer.
Venturi system vacuum with liquid ring.
Concentrate discharge especially for very dense liquids, by means of a pressurisation system.
Control panel with display, to show the operating data and PLC SIEMENS integrated in the cabinet.
Automated cleaning system for the inside of the boiler. With cycle start from the operator.
Antifoam automated control and dosage system.
Optional features
Boiler in SAF 2507, SANICRO 28 (effluent with high levels of chloride and fluoride,etc).
Internal scraper built in SAF 2507, SANICRO 28 or TITANIUM (effluent with high levels of chloride and fluoride, etc).
Distillate trap for collection and sorting of   solvents.
Special Teflon non-stick coating.
Antifoam automated control and dosage system(if needed).
Remote management MODEM.
Other power supplies available.
Diagram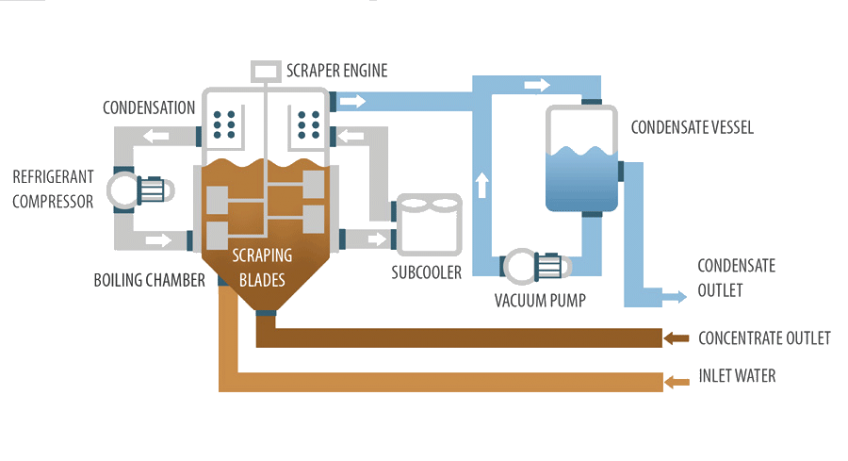 Technical specs
| | Units | 500 | 750 | 1000 | 1500 | 2000 | 2500 | 3000 | 4000 |
| --- | --- | --- | --- | --- | --- | --- | --- | --- | --- |
| Feed Inlet | I/d | 500 | 750 | 1000 | 1500 | 2000 | 2500 | 3000 | 4000 |
| Nominal Capacity | I/h | 21 | 31 | 42 | 63 | 83 | 104 | 125 | 165 |
| Energy Consumption | W/I | 250 | 250 | 250 | 250 | 250 | 250 | 250 | 250 |
| Dimensions (LxPxH) | cm | 230x105x280 | 230x120x280 | 270x135x305 | 310x150x280 | 300x160x370 | 305x155x370 | 360x170x370 | 370x180x370 |