Multiple-effect vacuum evaporators (two phases).
ENVIDEST DPM-2 (8.000-20.000) is a vacuum evaporator which works by means of a submerged tube bundle exchanger with hot water (W) and steam (V). Two condensation options: by wet-bulb condenser (C) or plate exchanger with cooling water circuit (W).
Possibility of using the heat in several effects. Fully automated operation of the equipment. These evaporator equipment are created to concentrate the high effluent flows.
Our evaporators ENVIDEST DPM 2
Main features
Double effect evaporator fixed on frame.
Two steam boilers made of AISI-316 L stainless steel, of horizontal development with top registration point easy to access.
Two tube bundle exchangers, both submerged inside the boiler, made of AISI -316 L stainless steel. Exchanger removable by means of a flange, for its inspection and cleaning.
Two heating choices for evaporation on first effect:
Wet-bulb condenser (C), stainless steel box, closed circuit  of cooling water with automatic fill-in valve, circulation pump with spraying mouthpieces. High flow fan cross-current.
Plate exchanger with cooling water circuit (W).
Venturi vacuum system.
Recirculation pump / download of special concentrate for dense liquids.
Integrated electric panel. Control system with PLC SIEMENS S7-300 and HMI SIEMENS MP377. Communication system with remote assistance modem (optional).
Semi-automatic cleaning system for the inside of the boiler.
Power supply: 400 V III, 50 Hz.
Optional features
Parts of the equipment touching the fluid built with special material corrosion resistant (SAF 2507, SANICRO 28, TITANIUM or stainless steel austenitic-ferritic super duplex alloys) for effluents with high levels of chloride, fluoride, etc.
Remote management MODEM.
Other power supplies available.
Diagram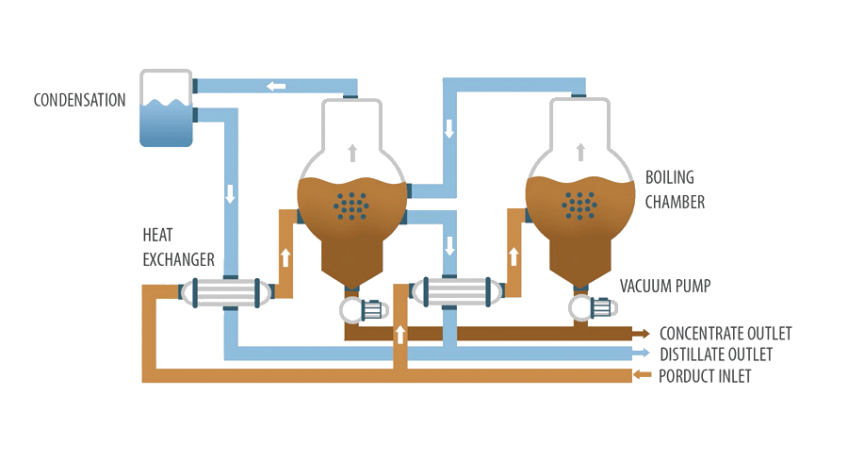 Technical specs
| | Units | 8000 | 10000 | 16000 | 20000 |
| --- | --- | --- | --- | --- | --- |
| Feed Inlet | I/d | 8.000 | 10.000 | 16.000 | 20.000 |
| Nominal Capacity | I/h | 330 | 416 | 660 | 850 |
| Energy Consumption | KCal | 110.000 | 135.000 | 215.000 | 250.000 |
| Dimensions (LxPxH) | cm | 320x190x320 | 320x230x380 | 330x230x380 | 330x230x380 |